Our mission statement
At Happyhealthygreen we help busy people get & stay in shape with time-efficient, delicious plant-based meals.
Our vision
We at Happyhealthygreen promote a 100% plant-based, active lifestyle. Healthy and tasty foods are the cornerstone of our vision, but climate change and animal welfare are also very important to us. We advocate that a plant-based diet is the best investment you can make in your physical health and the preservation of our planet. Of course, a vegan lifestyle is also the most efficient approach to stop animal cruelty.
We see that more and more people are interested in more plant-based whole foods, or a complete wfpb, or vegan lifestyle. We love and encourage this, but unfortunately, many people don't have the right tools to live their best life fueled by plants, or are too busy to spend hours in their kitchen every day.
What do we offer?
Happyhealthygreen offers the most efficient solution to put fresh, tasty and healthy plant-based whole food meals on the table, every day of the week. We do this with quick and easy-to-prepare dishes that are rich in nutrients and pack delicious flavors. These dishes are also rich in proteins and free from oil. This high-protein whole food approach allows people to get and stay in shape efficiently!
We offer unique, tasty recipes that can be prepared in less than 30 minutes. Our meals require 10 or less plant-based ingredients; most of these are whole and unprocessed, or minimally processed. Our dishes are usually high in protein, contain healthy fats the body needs, and are 100% free from refined oil and sugars.
We also offer custom-made meal plans (link), nutritional advice (link), and fitness coaching (link). We are proud to have helped many people get into shape. View and read their enthusiastic testimonials here (link). Are you ready to live your best life? Then request a FREE consultation now! (link)
Happyhealthygreen welcomes all types of eaters. Even if you are not 100% vegan (yet), you are most welcome here. Yelling "GO VEGAN" in people's faces is not our style. We prefer to encourage people to live more consciously by letting them experience how good they can feel while fueled by plants, and how tasty meals with unprocessed ingredients can be!
Who are we?
At Happyhealthygreen, we embrace a sober and critical attitude. We value quality and integrity and our articles are always science-based. You will not find Bro-science on our website, but you will find reliable info and articles that help our readers and customers in the best possible way. All our recipes, meal plans and programs are 100% original, complete, and designed with efficiency and accessibility in mind.
Marketing and development, recipe developer, lead editor
Stephan is one of the founders of Happyhealthygreen. He is plant-based since 2017 and has two cookbooks under his belt. In addition to sports and work, Stephan likes to discover exotic places and the local eating habits that come with them.
View recipes by Stephan (link), view articles by Stephan (link)
J. Plants
Marketing and development, dietitian, recipe developer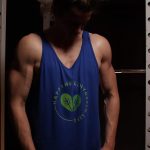 J. Plants is one of the founders of Happyhealthygreen. He is a certified nutritionist and fills his week with strength training and fitness. Besides developing recipes and meal plans, you can find J. Plants in his garden growing vegetables.
View recipes of J. (link)
Editor 1
Editor
Editor 2
Editor